PRODUCT FORM INQUIRY:
Manufacturer:
Model/Part #:
Message/Notes:
BarCodeTraders.com
Global Equipment Brokers - Professional Service - Worldwide Shipping
DATALOGIC FALCON X3 MOBILE COMPUTER 945252703
Other P/Ns:
Related Equipment:
Description/Configuration:
The Datalogic Falcon X3 lets you capture data with a high performance laser scanner with Green Spot, an auto ranging laser (XLR) scanner, or a 2D imager with Green Spot combined with a 3 megapixel color camera. The Falcon X3 communicates over a Summit 802.11a/b/g radio with CCX v4 certification for security and seamless roaming or through wired standards including USB, RS-232, modem and Ethernet. Its parallel computer architecture combines a PXA 310 and Cortex-M3 processors with a base memory package of 256 MB RAM / 256 MB Flash and choice of Microsoft Windows operating systems: Windows Mobile or CE. The Falcon X3 also features an ergonomic handheld and pistol grip form factors balance a 3.5 inch display, full keyboards and a one pieCE 5,000 mAh battery.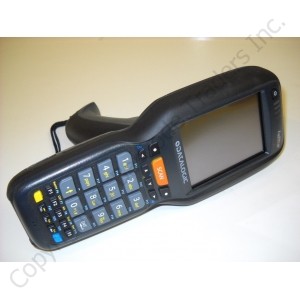 We can source New, Refurbished, and Used
equipment from around the globe.
Contact Us Today!
Copyright © 2019 BarCodeTraders.com - All Rights Reserved.
Other parties' trademarks and services marks that may be referred to are the property of their respective owners.
Nothing on this Web site should be construed as granting, by implication, or otherwise, any license or right to use any trademark.